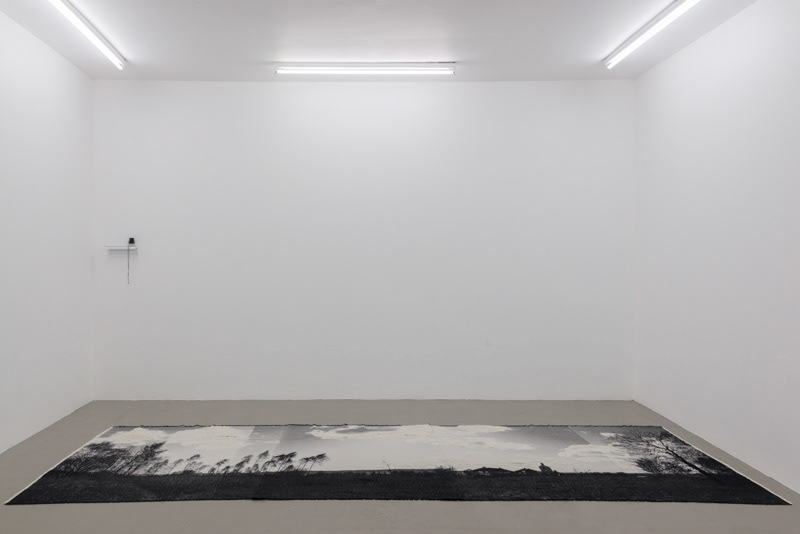 Angle of View
Jeanett Goodwin 
CirkulationsCentralen, Malmö
18 october - 10 November 2013 
Utstillingen Angle of View undersøker forståelsen av sted. Ved å oversette erfaringer av et spesifikt landskap, området rundt Bredtvet fengsel i Oslo, til fotografiske og tekstile verk, inviteres betrakteren til å se opp, bøye seg ned, komme nærmere og ta et steg tilbake. Goodwin stiller spørsmål omkring handlingen å se der publikum er utfordret til å ta del i en subjektiv forståelse av dette geografiske området. Selv om fengselet besitter historier blant annet om tragiske skjebner og sosiale spørsmål, avslører arbeidene i utstillingen lite av dette. I stedet presenterer de et lekent og fragmentert narrativ om avstanden mellom betrakteren av landskapet (kunstneren), det faktiske landskapet (Bredtvet) og betrakteren av verket (publikum). Slik viser Goodwin til en subtil, men bestemt påstand; blikkets eier avgjør hvordan han ser. 
Jeanett Goodwin bor og arbeider i Groruddalen, Oslo og arbeidene undersøker gjerne forståelsen av sted. Hun er kjent for sine 'fotografibaserte digital Jacquardvevde' arbeider og engasjert i oversettelses prosesser og dets utkom. Hun jobber hovedsakelig med tekstil og fotografi, og forholdet mellom disse, der arbeidene tillater både konseptuelle, emosjonelle og taktile lesninger.
The exhibition Angle of View investigates the understanding of a place. By translating the experience of a specific landscape, the area surrounding Bredtvet prison, in Oslo, into photographic and textile works, they invite the viewer to look up, bend down, come closer or take a step back. Goodwin poses questions upon the act of seeing as the audience is challenged to take part in a subjective understanding of this geographic area. Though the prison beholds stories about tragic destinies and social concern, the works reveal little of this. Rather, a playful and fragmented narrative reveals a distance between the viewer of the landscape (artist), the actual landscape (Bredtvet) and the viewer of artwork (audience); spelling a subtle, yet determined statement; the beholder of the eye determines how you see.
Living and working in Groruddalen-Oslo, the works of Jeanett Goodwin often deal with the understanding of place. She is renowned for her 'photography-based digital Jacquard-woven' works and engaged in translation processes and its outcome. Mainly working with textiles and photography, and the relationship between these, her works allow conceptual, emotional and tactile understandings.