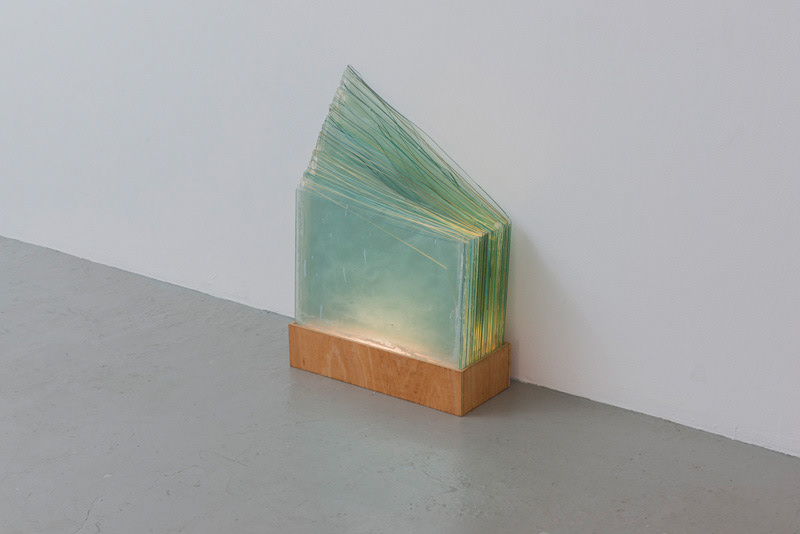 The Colour of My Fate
Jens Henricson
CirkulationsCentralen, Malmö
2-25 May 2014 
In a place just outside Helsingborg, Sweden, there are a number of greenhouses. They are larger than those that you may have on an allotment with potato, dill and onion, but they are smaller than a huge hothouse where trees, mushrooms and tulips are produced for overseas export. It is something in between, a livelihood for a family with extra workers during peak season.
Henricson brings us into the warm embrace of the greenhouse. Here herbs have thrived and bushes have been watered. Instead of plants we are confronted with questions; questions that are stuck in the rocks, questions silently floating in the well that we're offered to pick up shards from. Henricson has used material from his father's business that he has put together and modeled into new constellations. A photographic landscape has been filtered through glass. A dictionary is presented without a full translation. Against the wall in a box sheets of glass stand, damaged by past storms and from the box's floor, from the earth, a shimmering glow. And up there, the sun. 
Jens Henricson, born in 1979, lives and works in Malmö, Sweden. Graduated from Malmö Art Academy in 2008. Past exhibitions: Galleri Mors Mössa (2013), Galleri Konstepidemien (2012), Galleri Ping-Pong (2012), Galleri Arnstedt (2012), Dunker kulturhus (2011). 
Inte lågngt utanför Helsingborg finns det ett växthus. Inte ett litet som några av oss har på kolonilotten där det sätts lite potatis, dill och lök. Inte heller ett enormt där tallar, träd, svampar och tulpaner drivs fram i ofantlig skala. Det är något mitt emellan, ett levebröd för en familj och det är där som Jens Henricson växte upp. 
Henricson för oss in i växthuset varma famn. Här har örter frodats och plantor vattnats. Men det är inte växter utan frågor vi ställs inför; frågor som fastnat i stenarna, frågor som stilla flyter i brunnen vi erbjuds att hämta skärvor frön. Henricson har använt material från sin fars verksamhet och som han satt samman och modellerat till nya konstellationer. Fotografiska landskap som filtreras. En ordbok presenteras men inte en fullständig förklaring. En låda med glasskivor som skadats av tidigare stormar står ställd vid sidan och frölådans golv, från jorden, ett skimrande ljussken. Och där uppe, solen. 
Jens Henricson, född 1979, bor och arbetar i Malmö. Tog examen från Malmö konsthögskola 2008. Tidigare utställningar: Galleri Mors Mössa (2013), Galleri Konstepidemien (2012), Galleri Ping-Pong (2012), Galleri Arnstedt (2012), Dunker kulturhus (2011). 

Elias Björn
Curator